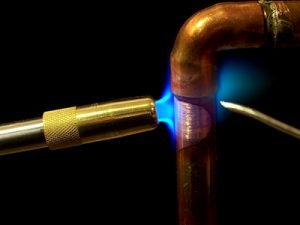 If your plumbing suffers from any of these problems, your home may benefit from repiping with copper pipes:
Low water pressure
Water that is yellow or rust-colored
A burst of scalding water in shower when a toilet is flushed or a sink or washing machine is turned on
Pipes that repeatedly or continuously leak
Minerals can gradually build up in pipes and narrow them. Or pipes can rust. If your home was built before 1980, it likely has galvanized steel pipes. Galvanized steel pipes rust with age. Rust build-up can narrow the pipes to where you can hardly see through them. The result can be low water pressure, rust-colored water, frequent clogs or leaks.
In the last 30 years, builders and homeowners have been switching to copper pipes because they don't rust. Repiping with copper can solve problems that your home may be experiencing. It's a popular upgrade that is a good investment because it can increase the resale price of your property.