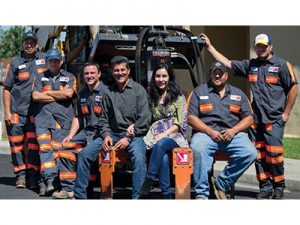 Consisting of multiple components and many different materials, manholes are necessary to access utility vaults or to perform maintenance on other underground utilities. It is crucial that manholes go through the proper assessment and rehabilitation in order to keep them up and running. Since there are different types of manholes and each component breaks down differently, each one must be repaired and renewed in a specific way. H & R Plumbing and Drain Cleaning, Inc specializes in performing the correct manhole rehabilitation in order to keep the manholes properly maintained.
Manholes are most commonly constructed of two materials, bricks and mortar or precast concrete. Though newer materials are being used today, the traditional materials will not be renovated in the older manholes. Many technologies are available for rehabilitating each component of a manhole without needing to excavate and replace. It is important to identify all the defects and components of the manhole before starting the rehabilitation process in order to define the extent of rehabilitation needed. You can read more about sewer structure rehabilitation technology at Madewell.net. At H & R Plumbing and Drain Cleaning, Inc our technicians are courteous, on time, and get the job right the first time. We are proud members of the Better Business Bureau and back up all of our work with a 100% Guarantee.
The cleaning and rehabilitating of manholes is an important maintenance procedure. Defects can cause structural, maintenance, and construction damage. Water leakage, missing walls, and corroded materials must be attended to before more serious damage occurs. H & R Plumbing and Drain Cleaning, Inc is always happy to help. Call us today at (510) 222-5556 for a free estimate or with any questions and we will be happy to assist you.
Manhole Rehabilitation Before / After Gallery